---
Update on Covid health and safety in jobcentres
An update on talks with DWP on "Bringing Customers Safely into our Jobcentres".
DWP published the above document on the departmental Intranet two days before we met with them. PCS made it absolutely clear to the employer that we oppose bringing more claimants into Jobcentres at this time as we don't think it is safe to do so. Since then, the situation across the country has got worse. The R number continues to rise and in the past 24 hours further restrictions have been announced across the UK, including in the North East of England, North West, and parts of Wales, affecting millions of people. With confirmed COVID-19 cases on the rise, it cannot be right that our Jobcentre members and the public are put at risk. This is backed up by almost 80% of PCS members who voted in the Consultative Ballot, who agree with the GEC that DWP should not be extending operating hours in 270 Jobcentres and 21 Universal Credit Service Centres from 30 November 2020 or increasing footfall in Jobcentres on safety grounds.
Increased face-to-face appointments from Monday
The GEC has been inundated by reps and members advising that increased activity is being introduced from next Monday. Work Coaches have been told to fill their diaries with appointments which could be dealt with by telephone or digitally. For DWP to bring 18-24 year-old claimants into Jobcentres is irresponsible as the government's own figures show that this particular age group are experiencing the highest rate of contracting the coronavirus.
Safety measures
NO additional claimants can be brought into any Jobcentre until the site JCFRA has been properly reviewed and ALL the control measures to deal with the risks identified have been fully implemented. This risk assessment must be reviewed jointly with local PCS health and safety reps. Employers have a duty to consult about changes in workplaces which may substantially affect the health and safety of employees. Any managers who fail to properly consult PCS about the site JCFRA will be breaching health and safety legislation. Any attempts to unilaterally write the risk assessment review with no union involvement will be failing to comply with the duty to consult.
Key issues that must be discussed as part of the JCFRA review include–
How have safety measures worked since the doors reopened?

Have there been any problems or incidents and what can be done to eliminate these issues?

Is the triage point now screened if this was not available at the outset?

What is the safe maximum capacity of claimants who can be accommodated in a Jobcentre at any one time?

Are there sufficient staff working in the Jobcentre to ensure safe staffing levels?

Information needs to be made available about the number of walk-ins who have been using the Jobcentre and projections about the volumes of claimants who will need this service- as this will impact on the number of appointments that can safely be booked.

What measures need to be put in place to safely accommodate claimants and keep everyone 2m apart at all times.

What safe walkways are needed to maintain 2m social distancing for each claimant from everyone else and what needs to be done to mark these out.

Are there safe walkways for members to leave their desks keeping to the staff side and also maintain 2m social distancing from everyone else?

Whilst sneeze guards may have been installed on adjacent desks – desks next to each other cannot be both be used at the same time unless the gap between staff or between the public sat at those desks is 2m or more.

Hot-desking must not be used

All desks and screens must be fully cleaned between individual users by the experienced cleaning staff.

How many cleaners are needed to deal with the additional work? And these must be in place before additional appointments are booked.

All covid-19 safety measures must also fit in with UCB safety measures

Where there are local lockdowns or spikes of COVID-19 cases there must be a review of whether services can be delivered safely.
Members based in the jobcentres have a key role in letting your local PCS reps know about any issues in your workplace and any concerns you have about keeping safe with the COVID-19 risks in the workplace and dealing with more claimants. You will have valuable knowledge about how your site is working properly or not which is essential to know especially if we do not currently have a rep based on your site.
Don't Volunteer if safety processes not complied with!
Members should ensure all the safety measures are in place to protect them before volunteering to do the additional interviews. Managers' rush to introduce this work without giving time to put all the safety measures in place is putting everyone's health and safety at risk. As well as reviewing the site JCFRA managers also need to do the BAME risk assessment properly. Any member being asked to do outreach services should also check that PCS has been involved in risk assessing any outreach plans. Doing outreach is not safe unless all the checks on the host organisation and the venue have been done and the plans have been fully risk assessed with the union. All workers have protections under law not to put themselves into danger at work – talk to your local PCS reps about any concerns you have and what can be done locally to address the serious risks to members' safety.
PCS campaigning for safety to be paramount in our workplaces
Members gave a categorical response to management about how concerned we are with safety in our workplaces in the 77% YES vote supporting the union campaign in our recent consultative ballot. DWP has already been found to be in breach of health and safety legislation following a HSE inspection of Quarry House.
Our department should still be focussing on providing services to the public remotely wherever possible by phone or online. Giving support in this way avoids putting anyone at by bringing more people into the jobcentres. We will continue to campaign to maximise these ways of delivering services more safely. As COVID-19 cases rise in our local areas we are very far from a business as usual situation and the DWP must take all the risks into account and do everything possible to avoid contributing to the spread of the virus in our workplaces and in our communities.
We need to remain vigilant about safety in our workplaces and challenge management when safety measures are not operating properly. We will continue to keep you updated and local PCS reps will also update members about any local activities to ensure safety is working in all our sites.
---
Cabinet Office urged to rethink 'irresponsible' back-to-work plans for civil servants


Union calls on perm sec Alex Chisholm to shelve 80% target amid "growing concern" over second wave of Covid-19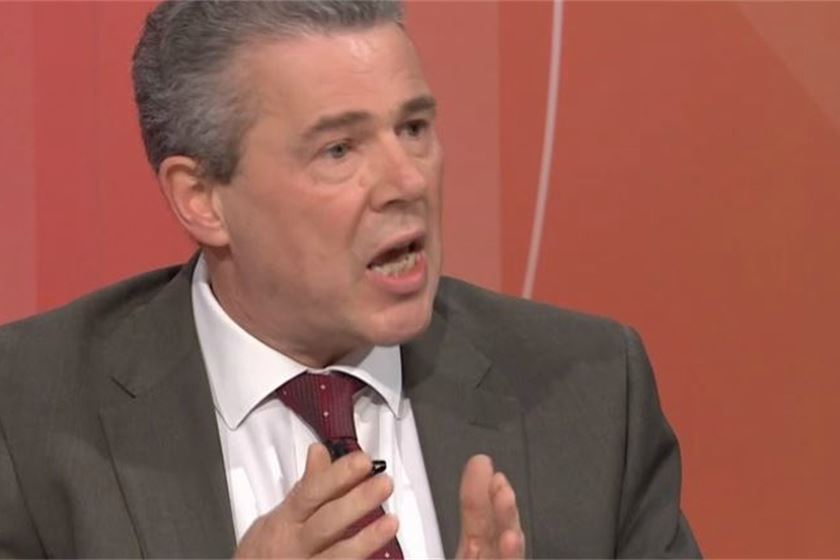 The civil service's biggest union has called on the Cabinet Office to rethink plans for 80% of staff to return to their workplaces by the end of the month as expectations mount that the UK will face a second wave of Covid-19 in the coming weeks.
PCS general secretary Mark Serwotka said in a letter to Cabinet Office permanent secretary Alex Chisholm that "no responsible employer would try to force large numbers of staff back to the workplace in these circumstances".
Serwotka's letter follows a warning from deputy chief medical officer Jonathan Van Tam, who said earlier this week that rising numbers of Covid cases across the UK were a "great concern". The letter comes ahead of new rules that will come into force on Monday making it illegal to socialise in a group of more than six people who are not part of the same household or support bubble. Workplaces are exempt, however.
The government's drive for 80% of civil servants to return to their workplaces by the end of this month emerged at the weekend in a joint letter from outgoing cabinet secretary and Chisholm – who is also chief operating officer of the civil service – to other perm secs. Unions reacted with frustration to the news.
But Serwotka said in his letter that increasing concerns about a sharp rise in coronavirus cases – including higher numbers of cases in government offices – meant the government should look again at the "arbitrary" return-to-work target that he said appeared not to have considered health and safety law.
"There is a real prospect that by the end of September we will see a similar prevalence of the virus as is currently being experienced in France, Spain, and other European countries, particularly given the large number of students travelling back to universities and colleges in the next few weeks," he said.
Serwotka said that as well as a failure to justify the 80% target or explain how it was compatible with Schedule 1 of the Management of Health and Safety at Work Regulations 1999, the return-to-work call also failed to take account of local lockdowns and issues faced by staff whose children were off school because of Covid-19 outbreaks.
"I strongly urge you to reconsider the requirements placed on departments by your letter of 3 September, and I request an urgent meeting to discuss the serious issues it has raised," he concluded.
Health secretary Matt Hancock said yesterday that the new social distancing rules would play a key role in controling the spread of coranavirus over the coming weeks.
"It is incredibly important that everybody follows these new rules," he said. "We will be bringing in strict enforcement so that they can be followed."
From Monday, anyone found flouting the rules will be liable for a £100 on-the-spot fine, which will double for repeat offences up to £3,200.
---
Huge thanks to every member who voted in the UC and Jobcentre consultative ballot, please see below.
To: All Members in DWP and GEC.
PCS DELIVERS BIG YES VOTE IN SAFETY BALLOT - THANK YOU TO MEMBERS
The resounding yes vote of 77.2% in the consultative safety ballot has shown that PCS members working in Jobcentre buildings, including DM and DSDR, and 21 UC Service Centres are very worried about the prospect of having to see more of the public face to face and have their offices open for longer while the risk from Coronavirus grows in society.
I want to thank the thousands of PCS members who voted in this ballot and sent a clear message that you are prepared to take action to protect your safety.
Your GEC has met and agreed to use the big yes vote on a strong turnout to press our demands with the employer.
Those demands centre on prioritising your safety, keeping face to face activity restricted to only the most urgent of cases, and the DWP withdrawing its plans to open offices for longer from the end of November.
We are seeing a sharp increase in infection rates following the premature easing of lockdown, and as I write plans to again restrict gatherings and introduce further lockdowns are being published by both government and local authorities. This shows the danger from this terrible virus is once again on the rise and so too is the risk to our members and the public who will be forced in to Jobcentres.
Now is not the time to extend services and increase operating hours as it is not safe to do so.
Your safety will remain our primary concern and we will do all we can by negotiation to convince the DWP that your safety should be their number one priority too. The GEC will then meet again to decide next steps.
Thank you once again for your strength and support and please stay safe.
In solidarity,
Martin Cavanagh
DWP Group President
---
04 Sep 2020 |
Tell us how you delivered during lockdown
As part of our campaign for a fair pay rise for UK government workers we want to hear personal stories from PCS members about how they delivered during lockdown.


04 Sep 2020 |

PCS What's On: 7 - 13 September
PCS' education programme springs back into action with courses scheduled across all regions and nations, covering subjects that will interest all PCS members and representatives, such as 'The Future of the Union', menopause, developing new advocates and much more.
---
Restore fair and equal pay for all
PCS is campaigning for fair and equal pay for all UK government workers.
In the civil service and related areas workers have suffered from years of pay stagnation. Over the past 10 years their pay has declined in real terms. That is why all of our members must have a pay rise that's significantly above inflation.
We have a single national pay claim for all civil and public servants, including:
A 10% cost of living pay increase for all, with a minimum underpin of £2,400

Full funding for pay awards

No detrimental changes to terms and conditions or cuts to services

Guaranteed swift progression to the maximum of the pay scale for the grade.
We want a pay rise that is wholly funded by the Treasury. No department should have to cut jobs to pay for it. Instead of each department having different pay scales, this year we must move to towards a system where everyone gets the same rates of pay for doing the same work. Earlier this year we asked for an across the board, above-inflation pay increase and the government refused.
We delivered during the pandemic and we deserve fair pay. But we were told by the government we must negotiate department by department and many UK government workers may get just 1.5%.900,000 public sector workers are getting an above-inflation pay rise this year but not key government workers including those in HMRC, DWP, justice sector and the Home Office. They and our members deserve far more.
Sign and share our petition for fair pay
We're asking PCS members do 5 things to be part of our campaign to force the government to deliver fair pay:
Sign our petition, on the UK government and parliament petitions website. We reached 10,000 signatures in under 55 hours, reaching 100,000 signatures could force a parliamentary debate.

Share our petition on social media.

Ask a work colleague to sign the petition. The more of us who sign it the stronger we are.

Get involved in PCS, if you're not already
Ask non-members in your workplace to join PCS. The more of us who are in the union, the more chance we've got of being successful.
We also want to hear from members how they've delivered during lockdown,
email editor@pcs.org.uk

---
26 August 2020
To: All Members
Department for Work & Pensions Group

and GEC |
DWP/MB/124/20
Extending of Operating Hours from 30 November 2020 - Who is in scope?
When DWP notified PCS that they were extending operating hours from 30 November 2020, they advised that it would affect staff in 21 Universal Credit Service Centres and 270 Jobcentres. The Group Executive Committee (GEC) have been contacted by a number of members who work in Work and Health Services Decision Making and Disputes Resolution Services who have advised us that their managers have told them that they are in scope for extending operating hours from 30 November 2020. They have also been asked to provide their preferences for Monday to Friday (08:00-20:00) and Saturday's (08:45-17:00).

PCS have escalated this with senior DWP management and have sought clarity on who exactly is in scope. Management have confirmed their intention to include the below areas in addition to the staff that we were aware of:
• Work and Health Decision Making – will provide a virtual service to support colleagues and customers through an escalations inbox from 08:00 to 20:00 Monday to Friday and 08:45 to 17:00 on Saturday's. Management have advised that this inbox will require enough cover to ensure it is effective, but not requiring every Decision Making site to be open for all extended operating hours.
• Dispute Resolution Services – will provide a virtual service to support colleagues and customers across DWP from 08:00 to 20:00 Monday to Friday and 08:45 to 17:00 on Saturday's. Management have advised that the virtual service will operate through the escalation inbox, requiring enough cover to ensure it is effective, but not requiring every Universal Credit (UC) Dispute Resolution site to be open for all extended operating hours. At this stage, management have decided to open Ravenhurst and Stockton sites based on their end-to-end decision making knowledge of UC disputes.
A number of ESA Decision Making members have questioned why they are in scope when they have limited experience of UC. This group of members were given limited training on UC to assist DWP throughout the pandemic. Management have advised PCS that staff with multi-skilled capability in Work and Health Decision Making will be in scope for working extended hours.

Vote YES in the consultative ballot
The above proposals have not been agreed by PCS and we have continued to strongly oppose the department's proposals on the grounds of an increased risk to our members health and safety.

The PCS Consultative Ballot on safety in Jobcentres and UCSCs began on 17 August 2020 and will run until midday on 7 September 2020. It is vitally important that as many members take the time to vote either electronically or by post if we are going to force the DWP into reversing their decision. This ballot is not about voting to take industrial action. No industrial action can be called by PCS until a legal statutory ballot is held. This Consultative Ballot is about safety and not about the Employee Deal. PCS do not agree that it is safe to extend operating hours at a time when all the scientists are forecasting a second wave of COVID-19 this winter.

The purpose of this ballot is to say to the DWP – now is not the time – put safety first. Do not extend opening hours in Jobcentres and UC Service Centres until it is safe.


VOTE YES IN THE CONSULTATIVE BALLOT – VOTE YES FOR SAFETY
Martin Cavanagh - Group President
Ian Pope - Group Assistant Secretary
Ian Bartholomew - Group Secretary
---
31 July 2020 |

PCS to hold Consultative Ballot on the Extending of Operating Hours and Safety in Universal Credit and Jobcentres
DWP/MB/109/20
To: All Members and GEC,
Department for Work & Pensions Group
The Group Executive Committee (GEC) met on 30th July and has agreed to hold a consultative ballot in reaction to the DWP decision to extend services in Jobcentres and extend operating hours in 270 Jobcentres and 21 Universal Credit (UC) Service Centres from 30 November 2020. The ballot will be a consultative vote to get the views of all members in Jobcentres and the 21 UC Service Centres. It is not a strike ballot. It will commence on Monday 17 August 2020 and close on Monday 7 September 2020. DWP have informed PCS that all Jobcentres, subject to viability, will extend their operating hours at some point in the future. All members in scope for this consultative ballot are strongly encouraged to vote YES in the ballot in order that pressure is put on the employer to withdraw their decision.

The GEC have been critical of the DWP in deciding to firstly re-open the doors of Jobcentres during the pandemic and now to extend operating hours. PCS are strongly opposed to the extension of operating hours on the following grounds:

• Safety - during a global pandemic, with many eminent scientists predicting a second wave of COVID-19 in the winter months and as evidence grows of a rise in infection rates, we believe it is wrong to extend operating hours, or to re-open job centres to the public, at this time as it would be putting the safety of our members at risk when there is no requirement to do so.

• Equality for part-year members – deciding to hold a 5 week planning period when most part-year staff will not be at work will undoubtedly put those members at a disadvantage when their working patterns will be decided. They will be excluded entirely from the planning process that determines when they may have to work to 8pm or on Saturdays. DWP have failed to carry out an equality analysis which is directly disadvantaging those members with a protective characteristic who will be absent from work during the month of August. PCS will be seeking legal advice on this issue.

• Failure to identify a business requirement to extend operating hours - PCS do not accept that there is evidence of any customer demand of DWP to extend operating hours to 8pm or on Saturdays from the end of November. Where opening hours in Jobcentres have been extended previously, customer take-up was so low that the Jobcentres reverted to their normal opening hours. There is no evidence that the increase in UC claimants means that there will be a demand to communicate with DWP at different times of the day. PCS welcome the indication from DWP that the telephone opening hours will not be extended beyond 6pm, but it demonstrates that there is no requirement for staff to stay until 8pm. No Jobcentre should open beyond 5pm until an agreed risk assessment is in place.

• Failure to meaningfully consult with the unions – During the pandemic PCS has met DWP at least twice a week and successfully negotiated improvements for staff on a wide range of issues such as health and safety, annual leave and personnel policy changes. DWP is required to meaningfully consult PCS on any proposed change to opening hours. Appallingly DWP only gave PCS 48 hours' notice in advance of the announcement to extend operating hours. They have made clear that they do not intend to meaningfully consult with your union to justify their decision and plan to impose it. That is not acceptable. It is bad industrial relations by the DWP.

PCS acknowledge DWP can invoke extended operating hours under the Employee Deal, if they have a legitimate operational requirement, but while the pandemic continues the health and safety of our members is our primary concern and should be DWPs. This decision to extend operating increases the risk to our members, other colleagues who work in our offices and the public who use our Jobcentres. PCS will continue to oppose both the decision to extend services in Jobcentres and extend operating hours until it is safe to do. The safety of our members will always come first and is paramount in everything we do.

PCS submit demands in letter to DWP
The GEC have written to the DWP tabling the following demands and stating that if they do not agree by 17 August 2020 we will regard that as creating a trade dispute:

a) The DWP withdraw their notice to staff to extend operating hours to 8pm, Monday to Friday, and a Saturday in 270 Jobcentres and 21 UC Service Centres from 30 November 2020.
b) No escalation of footfall in the Jobcentre estate and only interviews with those identified as the most vulnerable are invited in to Jobcentres throughout the course of the pandemic.
c) The easements put in place during the pandemic, which have allowed the focus to be on paying benefits to those who need them, continue with no escalation in Labour Market activity.
d) Meaningful consultation on the demand to extend services and the risk assessment process to take place nationally prior to any formal notice issued to staff.
e) A full equality analysis to be carried out on both the extended hours and re-opening of Jobcentres in consultation with PCS and identified risks fully mitigated.

Vote YES in the consultative ballot
A good turnout in the consultative ballot is vitally important if we are to be successful in forcing DWP to reverse their decisions. This ballot is not about voting to take industrial action. No industrial action can be called by PCS until a legal statutory ballot is held, but we have heard our members concerns over these recent announcements and remain fully committed to engaging with you during these difficult times.

If PCS have your email address you will receive an email telling you how to vote. If we don't have your email address you will get a letter explaining how you can vote on line or by post.

Please make every effort to vote and in doing so send a message to the DWP that we don't agree to their re-opening of Job centres to the public or their extending operating hours in 270 Jobcentres and 21 UC Service Centres.

Please speak with any non-members in your office and ask them to join the union as the stronger and more organised we are, the better chance we have of success.

Please look out for and attend any socially distanced members' meetings that are held at your office, and for further communications from the GEC in the coming weeks. You can either vote online, if PCS holds your personal email address, or by post.

VOTE YES IN THE CONSULTATIVE BALLOT – VOTE YES FOR SAFETY

Martin Cavanagh, Group President
Ian Pope, Group Assistant Secretary
Ian Bartholomew, Group Secretary
---
The Public & Commercial Services Union (PCS) is one of the largest and most influential Trade Unions in the UK, with around 270,000 members.
It is a very important time to be a Union
member and together we are so much
stronger, so please  join PCS online today.
Thank you very much for visiting this site, which IS official, but
please be aware of your workplace's Electronic Media Policy.
MADE IN ENGLAND